Cancer costs: Resources and help to manage housing expenses during treatment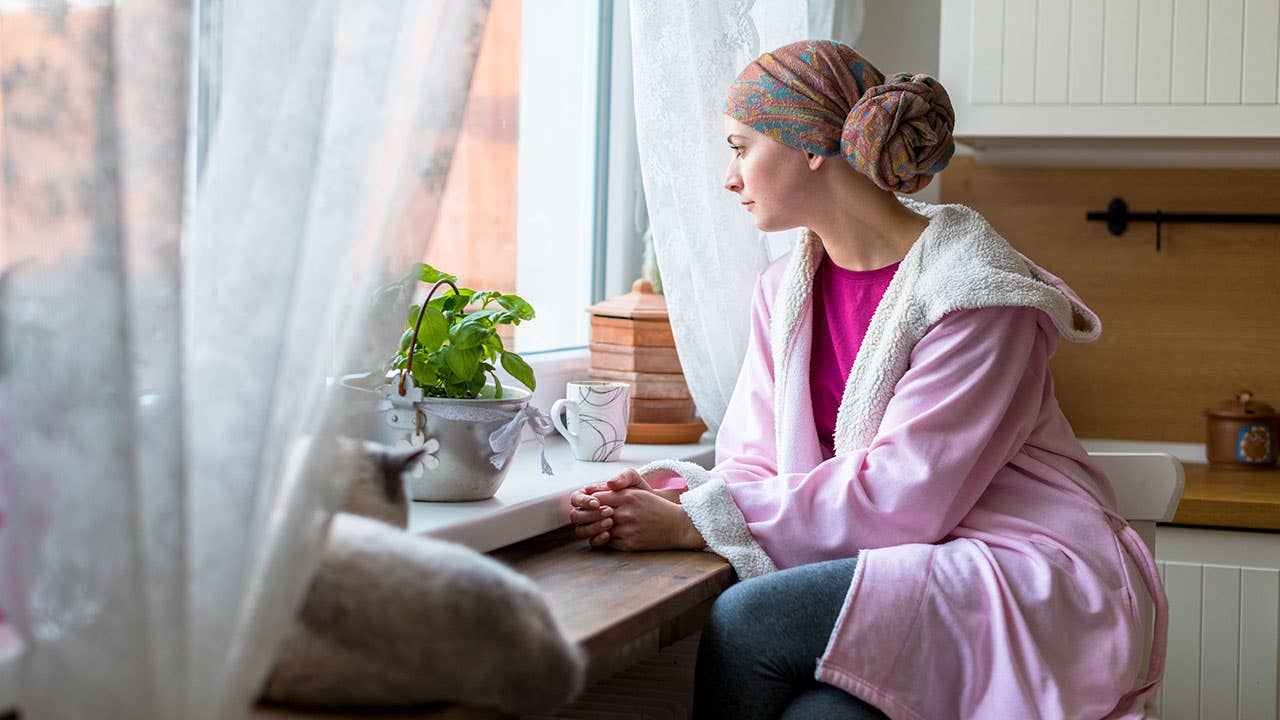 ABO PHOTOGRAPHY/Shutterstock
For additional information and assistance, please contact Mary Kate Mackin at Bankrate, Inc., 100 5th Ave., 16th Floor, New York, NY 10011, or by email to marykate.mackin@o.bankrate.com
Share this page
Why you can trust Bankrate
While we adhere to strict editorial integrity, this post may contain references to products from our partners. Here's an explanation for how we make money.
A cancer diagnosis can be heartbreaking enough without adding financial worries to the mix. If bills pile up and wages grind to a halt, it can become impossible to manage expenses and can lead to an unbearable degree of stress. Amid crushing medical bills and smaller paychecks, you and/or a loved one may even face the harsh reality of losing your home.
These financial realities can wreak havoc on the savings of even the most financially savvy individuals. But there are various assistance options that can help.
As some types of cancer are relatively short-term rather than chronic, it makes sense to remain in the comfort of your own home while undergoing treatment.
Sarah Manes, vice president of programs and community relations for the Angel Foundation, assists adults undergoing active cancer treatment who live in or receive treatment in the Twin Cities, Minnesota metro area. The Angel Foundation provides emergency financial assistance for non-medical expenses, and Manes says she sees a lot of families who are concerned about groceries, utilities, gas for vehicles and mortgage payments — the basics.
"They're worried about, 'How am I going to get gas in my tank because I'm going to the Mayo Clinic five times a week and it's 100 miles away?'" Manes says. "Or, 'I'm one payment away from losing my house.'"
In a 2017 Duke University survey, more than one-third of 300 cancer patients who were interviewed reported that they spent more on their treatments than they had initially anticipated. About 16 percent of those interviewed reported high or overwhelming financial stress. These individuals, who had health insurance, said they spent about a third of their total household income on health care-related expenses, not including insurance premiums. More than 60 percent of this group said that private insurance was their primary source of health care.
A report from the Cancer Action Network found that U.S. cancer patients paid nearly $4 billion out of pocket for cancer treatments. The National Cancer Institute reported that cancer care costs are expected to rise to as much as $173 billion by 2020.
Assess your financial situation
If you've been recently diagnosed or if you've been dealing with a cancer diagnosis, now might be the time to take a few steps to evaluate whether some resources can help.
Step 1: Do an income and insurance evaluation.
Understand how you can manage your job and how your employer can help during a cancer diagnosis. According to cancerandcareers.org, it's a great idea to do the following:
Learn everything you can about your insurance policy. Understand what your insurance covers, and what it doesn't. If you have your health insurance with your employer, don't let your health insurance lapse; always pay premiums on time. Know the details of your plan, including whether a provider is in-network or out-of-network. If you don't have health insurance through your employer, see if you're eligible for Medicare or Medicaid, or what the best options are for private insurance. Do your research so you understand the most minute details.
Know your rights under the Family and Medical Leave Act (FMLA). The act is a federal law that guarantees eligible workers up to 12 weeks of unpaid leave each year without fear of losing their jobs or their company-provided health benefits. .
Learn about your company's disability plan. Understand both short and long-term disability policies. If there comes a time when you will not be able to work, you can apply for disability benefits.
Step 2: Know as much as possible about treatment costs.
It's best to ask questions about the expenses you'll incur during your cancer treatment. A list of expenses from American Cancer Society includes:
Health insurance won't cover everything, so ask your doctor and insurance company about cancer costs. It's also possible to be proactive and ask about alternatives. For example, instead of more expensive medications, your oncologist may be able to prescribe less expensive generic drugs that are just as effective.
Step 3: Calculate your monthly expenses.
Use a monthly expense calculator to analyze how your cancer-care expenses will affect your finances. Resulting shortfalls could eventually mean that your home could be in jeopardy.
There are a number of programs that can help you find address this problem. Kathy Conley, stakeholder engagement specialist for GreenPath Financial Wellness, offers support and guidance for people seeking to keep their homes amid treatment. "It's a people-centered, holistic approach. We help people with financial wellness. We look at the whole picture as well. [medical expenses]. We put that into the context of the client's whole financial picture," says Conley.
How to manage housing costs
Mortgage payments are likely one of your biggest living expenses, and it can be an enormous challenge to keep up payments while fighting cancer. It's important to contact your mortgage lender or servicer about this as possible after diagnosis. Learn about your options, which could include a short-term repayment plan, a forbearance agreement, loan modification or other options.
Conley says that once GreenPath gets in contact with a client, specialists do a snapshot of the financial challenges they're facing, how long it's been going on and what their current financial situation is. They also look at your goals. Conley says one option could be to do a loan modification or re-amortization. More specifically, you might be able to change the terms of your mortgage to extend the term and lower the monthly payment, depending on different factors.
There are several other ways you might be able to shrink your mortgage payments:
Recalculate your escrow payment. Have your mortgage company check how much you're putting away for taxes each month. If your homeowner's insurance or property taxes are lower, your escrow amount could be lowered and your overall payment could be lowered, too.

Discontinue your private mortgage insurance (PMI). If you have PMI, which is required when your down payment is less than 20 percent, find out from your lender whether you could possibly drop this payment. PMI is required to protect the lender in the event that buyers default on payments early on. But later on in the loan, the lender doesn't really need this protection. Nevertheless, the PMI payments continue as part of the mortgage payment. Getting them eliminated can be difficult, but is well worth the effort.

Appeal your home's assessed value. Contact your local tax assessor to ensure that all of the information used for the assessment was correct and complete. If not, your assessment may be unfairly high and warrant a second look that could lower it, thus lowering your property taxes.

Look for a better deal on homeowners' insurance to lower your premiums, and/or consider a higher deductible.

Refinance your mortgage. Refinancing includes costs from application fees, appraisals, origination fees, document processing, underwriting fees, credit reports, title searches, insurance, recording fees and tax transfer fees, etc. But if refinancing lowers your monthly payment enough, it could be well worth those expenses. Try using a Mortgage Refinance Calculator to see how much you'll save over the long term.
How to seek additional mortgage help
You can also check to see if you qualify for mortgage assistance through Fannie Mae or Freddie Mac.
The Federal National Mortgage Association (FNMA), or Fannie Mae, and the Federal Home Loan Mortgage Corporation (FHLMC), or Freddie Mac, are government-sponsored enterprises which back many mortgages in the United States. If you have a loan through Fannie Mae or Freddie Mac, the Fannie Mae and Freddie Mac Flex Modification Program may reduce your mortgage payments through a few different options:
Adding your past due amount to your unpaid loan balance and recalculate your monthly payments over the new loan term.

Adjusting your interest rate.

Seeking forbearance of some of the principal balance, which would mean a temporary payment suspension or a loan modification.
To explore your eligibility, check out Fannie Mae's loan lookup tools and Freddie Mac's loan lookup tool.
The Hardest Hit Fund could also be a resource. It offers mortgage payment assistance if you're unemployed or underemployed, and it advocates for principal reduction for more affordable mortgages and offers help when transitioning out of your home and into more affordable living.
Paying for home modifications
It may be necessary to make certain physical changes to your home during and after cancer treatment, including:
The different Centers for Independent Living (CIL) are nonprofit agencies run by people with disabilities within local communities. CILs are free, and provide information, peer support and skills training, and can access assistive technology programs that can evaluate changes to your home to help meet your new needs. They generally do not sell products or charge a fee for their services.
Loans, home improvement grants and other assistance programs may be just the ticket to help you fund your modifications. Check out these websites for more information:
Bill and utility assistance
Manes acknowledges the widespread help among government agencies and nonprofit organizations, and the Angel Foundation provided nearly 2,000 emergency financial assistance grants in 2018. "We refer to our services as the bridge that gets you to the next point," Manes says. "A family will list out what they need help with, whether it's mortgage or utilities, and that includes gas, water, electricity. The check is cut directly to the bank or the landlord."
Similar to the Angel Foundation, utility companies often have funds to assist individuals and families. Homeowners, renters and subsidized housing tenants may be eligible for government programs and local programs in your area, and resources include:
If you need to downsize your home
If it's necessary to downsize in order to manage your monthly payments, you may have to sell your home and use the proceeds to buy a smaller place or rent. If your equity is depleted or negative, a short sale or deed in lieu could be an option to avoid foreclosure. In a short sale, also known as a pre-foreclosure sale, you sell your home for less than the balance remaining on your mortgage. If your mortgage company agrees to a short sale, you can sell your home and pay off all (or a portion of) your mortgage balance with the proceeds.
A deed-in-lieu occurs when you transfer the ownership of your property to the owner of your mortgage in exchange for a release from your mortgage loan and payments. There are some options to help you leave the home immediately, to stay in the home for up to three months without paying rent or lease the home (at market rates) for up to one year.
Other resources
Many financial aid programs and cancer organizations can help you determine the best course of action and some may also help with specific mortgage and utilities-related expenses. Do your research to find programs that fit the needs of your financial situation:
The bottom line
If you're struggling with a cancer diagnosis, don't feel as if you have to fend for yourself.
Manes says she sees people who have to make hard choices and sacrifices every day. "'I'm sitting on $12,000 on medical bills. I'm going back to school. I have a car that broke down. I don't think I can pay for a taxi,'" she says. "It doesn't matter what type of cancer you have. People have to be able to get help and they need to get help now."
___________________________________________________________________________
For additional information and assistance, please contact Mary Kate Mackin at Bankrate, Inc., 100 5th Ave., 16th Floor, New York, NY 10011, or by email to marykate.mackin@o.bankrate.com